Early Access – Closed Beta Testing (CBT) and APK
Gear up for a gaming adventure like no other as you step into the realm of BATTLE CRUSH. Join the closed beta testing (CBT) and gain early access to this action-packed game. Available on Android, Nintendo Switch, and Steam platforms, this game promises intense battles, treasure hunts, and unique action skills.
Developer Note:
The closed beta testing is scheduled from October 23rd, 2023, to October 30th, 2023. Please note that all account and game data from the beta test will be deleted after the test, so make the most of this opportunity to experience the game before it officially launches.
30-Player Battle on a Crumbling Field!
In BATTLE CRUSH, 30 players go head-to-head to prove their skills and emerge as the last one standing. With a limited game time of 8 minutes, engage in an intense battle that unfolds on a field crumbling beneath your feet. Get ready for non-stop action and adrenaline-pumping gameplay!
Skills That Bring the Action to Life
Say goodbye to mundane action skills! BATTLE CRUSH offers an array of satisfying skills that can deal devastating blows to your foes. Unleash Light Attacks for quick moves and combos, deliver powerful Heavy Attacks to knock back enemies, charge up your Ultimate for invincibility, dodge incoming attacks with Dodge Attacks, and even push or throw enemies out of the ring. Hone your skills to become an unstoppable force!
Treasure Chests and Game-Changing Items
Discover treasure chests scattered across the battlefield to enhance your strength. The stronger you become, the longer you'll survive. Don't miss consumable items that can teleport you to distant enemies or bring you luck, potentially turning the tide of battle in your favor.
Calixers – Heroes with Unique Skills
Choose your Calixer, each with their own story and unique action skills. Whether you're hurling spheres of water as Poseidon or turning your foes to stone like Medusa, every Calixer offers a different playstyle. Select your favorite and become the hero of your own epic tale.
Game Modes for Every Style
BATTLE CRUSH offers various game modes to suit your playstyle:
Battle Royale (Solo/Team): Up to 30 players fight to be the last survivor as the arena gradually collapses.
Brawl (Solo/Team): Choose 3 Calixers and fight until you're the last one standing.
Build-Up: Engage in intense 1 vs 1 battles to determine the victor.
Join the BATTLE CRUSH Beta Test
Are you ready to dive into the BATTLE CRUSH experience? The closed beta testing is available in select countries. Don't miss your chance to be among the first to explore this thrilling multiplayer game.
Explore Further
For additional details and updates on BATTLE CRUSH, visit the official website at BATTLE CRUSH – Official Website and join the community on Discord at BATTLE CRUSH Discord Community.
Get ready to crush your enemies and reign supreme in BATTLE CRUSH!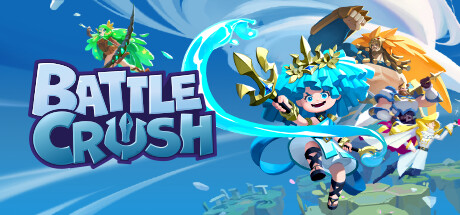 Developer:
NCSOFT Corporation